About us
Founded in 2001, Feenish Productions exists both to find and to create compelling, pertinent and compassionate stories of universal interest, and to deliver these stories to the largest possible viewership, nationally and internationally.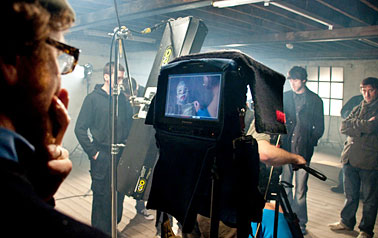 Michael on set for the Rubberbandits video
The team
Our regular team has many years experience on a wide variety of projects. Depending on the nature of each project, we may seek expertise from outside of Feenish, and in this capacity we have a record of working with some of the finest camera operators, editors and sound designers in the country.
Your project
Whether you're looking to communicate with a small group, or to get your message across to a large and diverse amount of people, the moving image is the most effective communications tool to use.
Testimonials
We make every effort to produce videos and films of the highest quality – if you're happy, we're happy. However, as the saying goes: don't listen to us – listen to them!
"We were delighted with the TV ad that you created for Culture Night 2010 – it captured perfectly the spirit and purpose of the event" — Dermot McLaughlin, Chief Executive, Temple Bar Cultural Trust